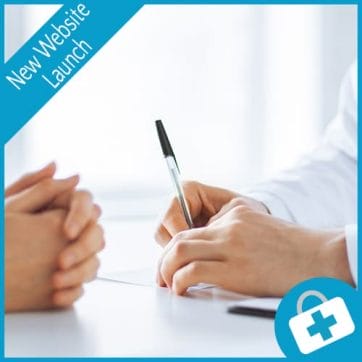 My Knee Doc are overjoyed to announce the relaunch of our new and majorly improved website. As our practice has grown and developed over the years, we seek to match such positive change with a new and improved online resource
We would like to take this opportunity to personally thanks the guys at Blue Whale Media for their continued hard work and effort, their friendly approach to work and collaborative mind set has resulted in My Knee Doc being the very proud owners of a brand new website.
Throughout the whole redesign process, the team at Blue whale Media were attentive to our every need, idea or query and made sure that we were 100% happy with what was being created at all times. The final result is a responsive, visually engaging online resource for all of our patients.
So what's new with our website?
Updated Services
The services offered by My Knee Doc are always evolving and improving, we took the opportunity of having our new website built to update and improve the listed services on our website. This way our customers have a better idea of the kind of services and products that we provide.
New Blog Updates
Keep your eye on our website and blog page and we will be continuously uploading new blogs and articles every two weeks. The types of topics that we will be covering will be knee surgery, degenerative illness, sports injury and much more.
We want to keep you guys up to date with the services that we are offering.
Responsiveness and Loading Times
The clever folk at Blue Whale Media set to work making our website as responsive as possible. They did this by reducing loading times and redesigning the layout of our website.
The result for us is a great looking and fast website, so you guys can spend less time looking for what you need.
Safe and Secure
Our new website includes an SSL certificate. You might notice that when you head over to our website you will see the word 'secure' in the search bar. The SSL certificate ensures that any of your information shared with our website is 100% safe and secure as it is encrypted.
We want to give you peace of mind and let you know that you are in safe hands.
We hope that you enjoy the website as much as we do and welcome any feedback that you might have.