Who We Help
Here at My Knee Doc, we specialise in helping knee patients with anything from minor inflammation to serious ailments, such as arthritis, to live happy and comfortable lives. 
At My Knee Doc, we are committed to helping people with knee problems become more active, mobile and live pain-free lives.
If you are:
a professional athlete

an amateur sports enthusiast

an office worker struggling with sitting at a desk all-day

a driver with knee issues from pressing pedals 

a busy parent struggling to keep up with your kids because of knee pain

living with a disease that affects your joints 

recovering from an accident 

getting older and struggling with your mobility
…then we can help!
If you identify with any of these points or are simply experiencing knee pain or mobility problems in your legs, My Knee Doc will help with your knee problem and guide you through your treatment journey. 
When to see a specialist about knee pain
There are many reasons to visit a knee specialist, including when:
You're experiencing ongoing swelling, redness and pain in your knee joints

Painkillers and light exercise aren't helping your knee

Your knee pain or inflammation is affecting your mobility and quality of life

You can't stand for long periods without knee pain 

You struggle to extend your leg or put any weight on your leg 

You've damaged your knee in an accident 

Your knee is visibly deformed 

Your doctor recommends a dedicated knee specialist 
Whether you have a diagnosis or not, our Knee Doctor can help you to understand your symptoms and find the right treatment. 
The first step towards recovery from knee pain is understanding what's causing the issue — so when you visit My Knee Doc, we'll start with an initial consultation and assessment.  
From there, we can diagnose your problem. Depending on what it is, there may be an obvious course of action or a number of treatment options that may be suitable for you. 
Our team can perform a knee arthroscopy to check your knee using a cutting-edge camera and diagnose the problem. Once we know what's happening inside your body, we can discuss your options and work with you to help you choose the perfect one. 
Whether you need re-alignment surgery or complete knee replacement surgery, we'll be able to support you through your treatment and help you choose the best option. 
If you don't want to go down the surgery route, then we can provide PRP therapy by injecting Platelet Rich Plasma into your body. By injecting the plasma directly into the affected knee, we can help to stimulate the body's natural healing process and help you to avoid a knee replacement. 
Choosing the right treatment might sound daunting, but that's what our team of supportive knee specialists is here for! We'll always give you our best advice, explain all the options, and help you make an informed decision about your health.
Get a free consultation today
If you're experiencing any knee pain, however minor, then we can help. Book a free 10-minute telephone consultation with our experienced Knee Doctor to get expert advice tailored to you.
From our practices in Manchester and Cheshire, we can support our patients in person and provide a unique treatment plan that produces noticeable results. 
Contact us now to find out more about booking an appointment and starting your journey towards an active, pain-free life today!
"My life was transformed and the pain almost negligible.... Now no painkillers or stick. I cannot thank my caring consultant enough. I will be ever grateful for his wisdom"
"Whatever you did when you injected my knee was a miracle. My knee felt back to normal even before I had left the hospital"
Following cortisone injection for flare-up of knee pain
"Everything has been great. From the first appointment, the scan, the arthroscopy and the post op care. It's been perfect"
Following knee arthroscopy
"Mr Stables was very understanding, patient and thoroughly competent. I would recommend anyone to have knee replacements by him. The whole experience was worthwhile and very good for my quality of life."
"Thank you. What you did for my knee was the best thing I ever had done. I'm pain free and walking 10 km every day"
Postman 5 years post TKR
"Thanks for everything Mr Stables"
"Brilliant treatment from start! Had arthritis in the knee joint. Was given the injection and the effect was immediate! Brilliant. Would recommend to anyone. One of the most helpful doctors I have ever seen (and I`m 73 !!)"
"The knee replacement has been amazing. My pain has gone completely. I'm now ready for you to do my other knee. I can't wait"
18 months following TKR
Ready to Make Some Positive Changes in Your Life?
Claim one of our free guides and get started today. Help yourself now and begin your journey towards a pain-free, active and healthy life.
Find out all you need to know about knee replacement surgery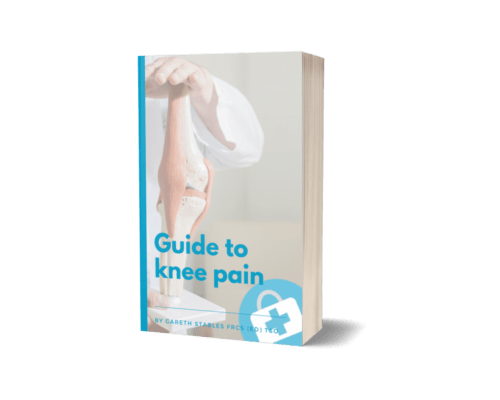 Get help with your knee pain. Get control of your symptoms today
Get your free copy of my guide on golf knee injuries